Praja dé Bràs performative strategy for public space
commissioned by Arte/Cidade, São Paulo, Brasil ©1999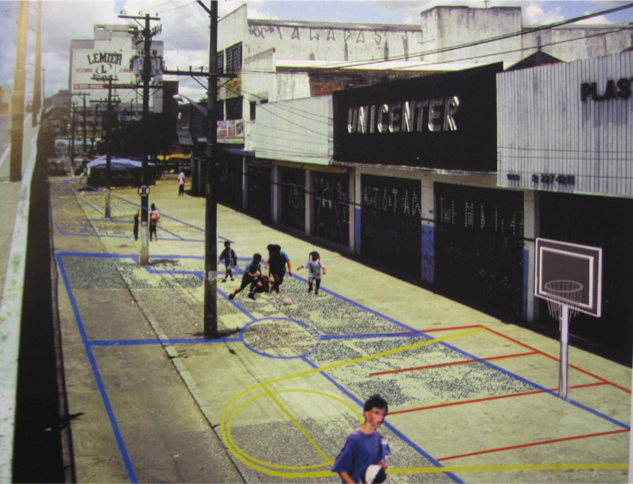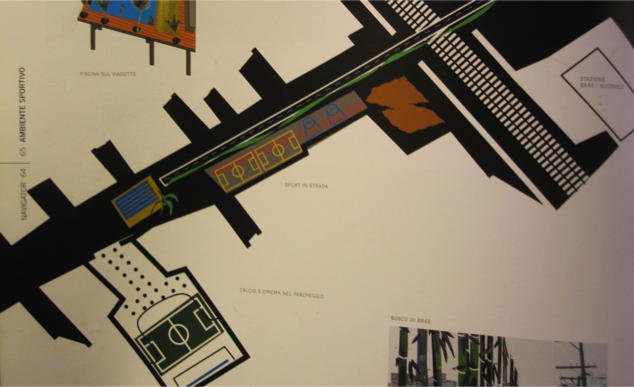 In São Paulo the governmental interference in public space in the neighborhood of Brás was like absent. The model of chaos, in which individual actions together forms the collective direction is very well developed. Since everybody knows the government os not there to help you, people learned to take care for their own business. To bring back some collectivity -as happened during the building up of the installation and a lot of neighbours started spontaneously to help- I propose a strategy to reinvent public space:
a) double use
Lines in differ
ent collars are painted on the street; blue lines for playing basketball, yellow lines for parking and white lines for playing volleyball. Like in a gymnasium, everybody understands the rules of the game, understands the lines that belongs to it. The moment the street children plays volleyball, the collared lines will help them to claim the space.
b) reclaim
The former c
inema of Bràs has no roof anymore and is in use as car park. The proposal is to use this 'stadium-like' space to play football and start playing movies again. Cars can still park in this an open air, drive in cinema.